Скриншоты Need for Speed (2015)
Need for Speed 2015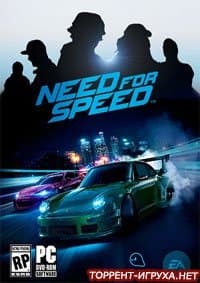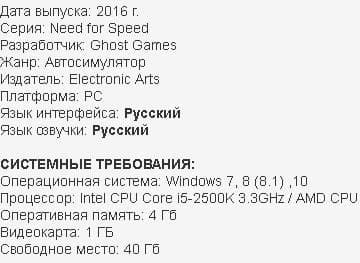 Игровая гоночная серия Need for Speed, или просто NFS, существует уже более 20 лет. Новые проекты появляются практически ежегодно, а в некоторые годы выпускалось сразу по два. В результате в копилке Electronic Arts, издателя серии, набралась 21 игра NFS, включая вышедшую зимой этого года Need for Speed: No Limits, разработанную специально для мобильных платформ.
Владельцы серии уже имеют опыт в переиздании старых частей, здесь стоит вспомнить Hot Pursuit и Most Wanted. Однако это раз они решили удивить геймеров новым поворотом в истории NFS — полностью перезапустить серию, так сказать, начать все с начала. Поэтому предстоящий проект получил простое название Need for Speed без всяких приписок.
Релиз, который состоится на платформах PS4, Xbox One и PC, намечен на осень, тогда все фанаты уличных гонок смогут скачать Need for Speed 2015 через торрент. Несмотря на то что о перезапуске серии уже объявлено, официальный анонс еще не состоялся — он назначен на 15 июня. На этом мероприятии геймеры смогут узнать подробности игрового процесса и увидеть первый полноценный ролик.
Характер новой Need for Speed 2015 года:
Каким будет новый проект? Этот вопрос волнует многих геймеров. Серия богата разными играми: и откровенно аркадными, и настоящими симуляторами, и позволяющими вдоволь насладиться возможностями тюнинга, и предлагающими максимально сосредоточиться на технических характеристиках автомобиля. Такое разнообразие помогло Electronic Arts привлечь широкую аудиторию к своему детищу.
Однако геймеров давно не радовали ночными уличными гонками и сногсшибательным тюнингом, которые так полюбились в подсерии Underground. Напомним, что в 2001 году состоялась премьера кинофильма «Форсаж», рассказывающего о жизни стритрейсеров. Эта картина вдохновила владельцев серии NFS на создание чего-то принципиально нового.
Так в 2003 году появилась игра Need for Speed: Underground, предлагающая виртуальным гонщикам насладиться ночными уличными заездами и предоставившая большие возможности в плане модификации своих автомобилей. Благодаря фильму «Форсаж» в играх NFS впервые появилась такая фишка, как закись азота, позволяющая быстро набрать скорость, а также трассы для дрэг-рейсинга — гонок на короткую дистанцию по прямой.
Игры Underground и Underground 2 обрели просто огромную армию поклонников, однако в дальнейшем серия отошла в сторону от ночных уличных гонок на крутых оттюнингованных тачках. И геймерам их стало очень не хватать. Но теперь самое время возрадоваться! Ведь новая Need for Speed будет именно такой. Разработчики пообещали, что в ней всегда будет ночь.
Среди других особенностей предстоящего проекта стоит выделить продвинутую персонализацию и открытый разнообразный мир — действие будет происходить в мегаполисе. А еще мультиплеерный режим оригинально вплетен в основную кампанию игры. Другие подробности можно будет узнать совсем скоро — 15 июня. А вот скачать торрент Need for Speed 2015 бесплатно Вы сможете уже осенью этого года.
Need for Speed (2015)
Минимальные:
Операционная система: Windows 7 (х64) или выше
Процессор: Intel Core i3-4130
Оперативная память: 6 Гб
Видеокарта: NVIDIA GeForce GTX 750 Ti 2 Гб, AMD Radeon HD 7850 2 Гб
Свободного места: 30 Гб
Рекомендуемые:
Операционная система: Windows 7 (х64) или выше
Процессор: Intel Core i5-4690
Оперативная память: 8 Гб
Видеокарта: NVIDIA GeForce GTX 970 4 Гб, AMD Radeon R9 290 4 Гб
Свободного места: 30 Гб
Все помнят культовую Need for Speed: Underground? А те приятные вечера, проведенные за захватом улиц под эпичный Get Low? А Underground 2 помните? Ghost Games под началом EA решили назвать свое новое детище вершиной серии NFS. Оказались ли они правы?
Need for Speed завлекает с трейлера: реалистичная графика, крутая музыка и рев моторов – все, как мы любим. Игра же начинается без темпа, с кат-сцены с живыми актерами. Разработчики решились взяться за традицию делать внутриигровое кицно, чтобы угодить фанатам, показывая скучные нарезки с главными персонажами игры: Эми, Спайком, Ману и Робином – игрок, являясь главным героем, выступает от первого лица и является наблюдателем картины.
Сюжет же раскручивается вокруг желания героев прославиться. В город Вентуру-Бэй приезжают звезды стрит-трейсинга – игровые прототипы Кен Блока, Накаи-Сана и других. Шайка, после очередной тусовки с выпивкой и гонками, выбирает игрока для многочисленных выступлений и привлечения внимания, время от времени поручая заезды в том или ином районе. Игрок выигрывает, получает авторитет и кредиты, трата которых предполагает покупку апгрейдов или новых машин.
Город открывает для игрока все шесть районов: Бёрнвуд, Горы Кресент, Ройял-Парк, Южный порт, Эль-Рэй и Франклин-Террас. Каждый район предложит игроку набор заданий по пяти направлениям: нарушения, дрифт, стиль, скорость и команда.
Также сразу доступны и все автомобили – их не придется открывать, достаточно лишь накопить нужную сумму кредитов. Есть 50 наименований, не считая машин трафика и полиции. BMW, Ford, Ferrari, Lamborghini и не только – культовые марки представляют настоящих монстров, от вида которых бросает в дрожь. Взять тот же Aventador, опасный не только с виду, способный к разгону до 100 км/ч за пару секунд – разработчики полностью сохранили свойства и параметры реальных прототипов.
Отличительной особенностью перезапуска Need for Speed является тюнинг – на него разработчики обратили львиную долю своего внимания. Игра предлагает не только выбрать понравившуюся машину, но и изменить ее под свой стиль игры. Взять, к примеру, обтекаемый и изысканный Dodge Viper и изменить его в настоящего монстра с агрессивным бампером и капотом, с улучшенным движком и ЭБУ. Также в своем гараже игрок может разукрасить свой автомобиль в цвета радуги и наклеить на него кучу крутых стикеров.
Несмотря на всю свою аркадность, игра дает огромный список функций, доступных для настроек. Радует калибровка каждого автомобиля под поведение игрока – система гибкая, но все же имеет ручную настройку в меню.
Мультиплеер Need for Speed, взятый прямиком из Rivals, остался неизменным. Это значит, что игрокам понадобится постоянное онлайн-подключение, даже для игры в одиночку. Массивности и живности городам прибавят сами игроки. Система понравилась нам за свою упрощенность и казуальность: гонщику не нужно создавать лобби, совершать кучу настроек. Он просто приезжает на точку, выбирает "Мультиплеер" и готовится к заезду с другими игроками.
needforspeed
528 пользователей находятся здесь
ИНСТРУМЕНТЫ ВИКИ
МОДЕРАТОРЫ
knightfader 0KnightFire0
titleproblems titleproblems
ConverseFox ConverseFox
1clkgtramg MERCEDES-BENZCLK
gor134 gormir134
hachir0ku Butaketsu-C130
о команде модераторов »
faq
Need for Speed 2015 FAQ
This is a working list. Just started this after seeing some questions coming back all the time. I'll add more answers overtime. Obviously, if you have any additions, let me know and I'll add them to the OP.
Updates and patches
Can you please add ". " feature/car/parts/modification?
There's a very high chance that your request has been asked before and has already been discussed, probably more than once. It's not necessary to open a new thread for every request. Use the search function to check if your question has been asked before. If you still want to start a conversation, use this Meta thread to share your wishes and ideas in a polite and civilised way.
When is the next update planned, and which changes/features/additions will it have?
Ghost Games is very discreet about their plans for future NFS updates. All we know is that they call it a 'living game' which means we can expect new things to be added/changed over the coming months. We won't know what the next update will bring us until they announce it, which usually happens pretty shortly before they release it.
The fifth update (Hot Rods) has been released, and included two Hot Rod cars, five new drag racing events, five extra garage slots, manual transmission and some fixes to gameplay and the wrap editor. More info can be found here
The second update had new body parts for some cars. Why can't I find them on my starter car?
One of the cars with new parts was the Honda Civic. However, there is a bug which doesn't enable those new parts on the starter Civic. This is because the starter cars have a different ID than the one you can buy from in the garage. This will be fixed in the next update but in the meanwhile you can just sell and rebuy the car to find the new parts.
Hardware
What are the system requirements for the PC version?
According to the Need for Speed website:
Minimum Requirements for 720p30 at low settings:
OS: 64-bit Windows 7 or later
Processor: Intel Core i3-4130 or equivalent with 4 hardware threads
Memory: 6GB RAM
Graphics Card: NVIDIA GeForce GTX 750 Ti 2GB, AMD Radeon HD 7850 2GB, or equivalent DX11 compatible GPU with 2GB of memory
Hard Drive: 30 GB free space
Recommended Requirements for 1080p60 at high settings:
OS: 64-bit Windows 7 or later
Processor: Intel Core i5-4690 or equivalent with 4 hardware threads
Memory: 8GB RAM
Graphics Card: NVIDIA GeForce GTX 970 4GB, AMD Radeon R9 290 4GB, or equivalent DX11 compatible GPU with 4GB of memory
Hard Drive: 30 GB free space
Is my steering wheel supported?
The announcement for the PC version included news about including steering wheel support. Furthermore, wheels support will be added to consoles as well in a future update. The following wheels will be officially supported (source):
Logitech G27
Logitech G29
Logitech G920
Thrustmaster TX
Thrustmaster T150
Thrustmaster T300
Thrustmaster T500
Fanatec CSR
Interface and menu
How can I reset my progress?
You can restart your single player progress by starting the main game without selecting PLAY yet. If you're still in the NFS HUB go to settings. You'll see an option called Reset your Journey. This will restart your mission progress, but you'll be able to keep your wraps and time/score records. If you want to reset your progress completely, just delete your save game from your system.
Can I teleport or quick travel to races instead of driving around the map all the time?
Every mission that's completed or currently active can be teleported to instead of driving. Just find the event on your map, select it (X or A), and press the right arrow to find the teleport option. This will place you at the starting location of the race. However, this feature doesn't work the other icons on your map (e.g. collectibles).
What are the yellow AR icons, stars and other things on the map?
The AR icons stand for Autolog Recommendations. These are challenges you automatically receive when you have friends playing the game. Some of their records will be given to you as a challenge to beat, by showing the AR icon. The stars are missions/races you only played during the story. It turns into a green checkmark if you do it again. The cyan icons are usually temporary bonuses on the events, which will give you more rep or cash for a limited time.
How can I upload my screenshots/snapshots?
Uploading your image to an image hosting service (Imgur) shouldn't be a problem. The question is, how to get the images from your PS4/Xbone to your PC?
PS4: There are a couple of solutions. To name a few, you can transfer them with a USB drive, upload them to a (private) Facebook album, or use the mobile PSN messaging app to save them to your camera album.
Xbone: After taking a screenshot with the Xbox One and using the upload app, the easiest way to access them is through xboxdvr.com. You can also transfer them via Twitter, OneDrive or Private Message.
Multiplayer
How can I play with friends?
To play with friends, you need to be in the same crew. From the NFS HUB, select CREW PLAY and invite your friends from there. If there are no slots available, try to do this before you enter a game session. When your friends joined and are visible in your crew overview, hover over your own tile and click Play. You will end up in a lobby with your friends.
Can I play this game without other players?
There is currently no possible option to play this game truly offline. You will always need to enter to an online lobby to have access to any in-game features. Those lobbies will be automatically filled with other players during your session. However, there is a way to make a private lobby for yourself. To do this, go to the NFS HUB, then settings – game settings and choose play alone.
How can I race with the other players that are in my lobby?
You can invite all players in your lobby to join any race you want. Just position yourself at the start of the race, and press Triangle/Y instead of R1. All players will receive an invitation which they can accept or decline. You can also challenge individual racers for a spontaneous sprint/drift/outrun challenge. You can do this by pressing the R1 button when you are near them. The option appears when you drive behind them, but the window to do this is small. It's easier to focus on the other player with your camera (right stick) until you see the pop-up.
Gameplay and controls
How does your heat level work? And how can you increase it?
You can get a heat level, obviously, by breaking the law with a cop nearby. Speeding works, or ramming a cop car if you want. You raise it by maintaining a pursuit and increasing your fine. You can speed up this process by ramming cop cars and breaking things like road signs, lamp posts and bus stops. Once you reach heat level 3, two types of roadblocks will start to appear to stop you/slow you down. You can smash through the blue roadblocks, they will only slow you down. However, the red+blue roadblocks won't let you through, so avoid those. At heat level 5 you will also start encountering spike strips which will blow your tires and make it pretty difficult for you to escape.
Where can I find cops?
Cops are stationed and patrolling around the map, or can be found at police stations. Best chances of finding a cop would be in either the Royal Park or South Port districts. Redditor /u/TFera observed and mapped pretty much all the locations and routes in this album.
What is 'rubberbanding' or 'catch-up', and why is does it exist? This game is programmed with a strong arcade nature in mind. Hence, the developers decided that every race should be filled with lots of action and interaction. Simply tuning your car to be faster than opponents and create a major lead would kill this intended experience. Therefore, the developers programmed the AI to adjust their speed to you and stay close to you all the time.
While you have a good reason to be annoyed when you lose a race that you should have easily won, think about how boring it would be if you always leave the AI miles behind you after the first couple of corners. Furthermore, keep in mind that rubberbanding will also work the other way around when you are the one behind. This gives you options to use the system to your advantage.
How do you lose your heat level? by /u/1clkgtramg
To lose the cops, you have to escape the pursuit. This should be pretty easy at lower heat levels, but can become more difficult at level 4 or 5. The easiest way is to find a route to the highway and speed away. There are no cop patrols on the highway so you only have to lose the ones following you. The minute you escape the pursuit – strangely, the police completely forgets what your car looks like after pursuing you and stop bothering you.
Why is my car sometimes unresponsive? by /u/1clkgtramg
In general there are 2 situations when this can happen; both are due to the current state of the physics engine and driving aids. One situation may be right after a jump; for some reason the game doesn't allow your car to move on an angle in the air and thus interrupts a quick turn immediately after the jump. The other situation typically happens right after your car understeers in a corner. At this moment, the game tries to 'assist' you by counter steering for you, which causes an 'unresponsive' experience.
Is there an option for manual shifting in this game?
The fifth update included an optional manual transmission mode. You can find this option in the game settings. More information can be found here***
Game progression
Why does my game progress say that I have more Miles/KM's drifted than driven? by /u/1clkgtramg
Most people have discovered that it is simply just a spelling error. It is actually the amount of yards drifted, not miles or kilometers.
Why does my game progress indicate my driving style mostly as Outlaw when I barely do any pursuits? by /u/1clkgtramg
Most of the 5 Ways To Play have 2 or 3 or so methods of earning rep. For Example, to earn Style points, you must Drift, Jump or do a Donut. For the Outlaw, you have many more possibilities or earning Rep. This can be obtained by being in a Cop Chase, Near Miss, Destruction (which is way to easy to do accidentally), Slam and if you escape the pursuit, you also earn Rep from doing so and that gets added to your Outlaw Rep Bank. Also, it should be noted that the money you see at the ed of a pursuit is not money you earned but rather the fine you have accumulated for the successful pursuit escape. You will not make money from cop chases.
How do I complete the cars beaten statistic in my game progress?
You need do challenge and beat every car in the game for a spontaneous event to complete this. Challenging other players cars counts for this, but you can also use the AI drivers around the map for this. Luckily, these aren't random but have a fixed name/car and location on the map. You can find them all in this handy list, made by /u/bigdamo.
Another great tip from /u/Hrist_Valkyrie: If you immediately catch up with the other drivers after you just finished a race, you can challenge one of those drivers for a spontaneous event. This will 'pull' all of the other cars from that race into your spontaneous race as well. If you win this, you get credit for beating ALL of those models. Doing this a couple of times is a fast way unlock a good portion of the list before you start looking for individual cars.
What is the fastest way to earn money?
The most suitable answer comes from the advise often given by /u/1clkgtramg when this question is asked. The best way to earn money is by just playing the game. This enables you to have fun whilst earning money at the same time. If you really feel the need to grind, you'll have to find a hard difficulty race that you can complete as fast as you can and repeat. Not as fun as playing the game, so it's your choice. Good options for this method would be Half Past Ignite and Fueled By The Fire. But it's best to try them all yourself and find out what suits you, since it depends on your driving skills/style, and the risk you're willing to take to fail the race.
Tuning and customization
Which cars have the most available body parts?
In general, tuner cars will have the most available body parts in this game. Furthermore, the latest update has added a lot of new body parts for six cars. These cars are the Dodge Challenger SRT8, Ford Mustang 1965, Honda Civic Type-R, Lotus Exile S, Volkswagen Golf GTI and Volvo 242. Check this Google Sheet made by /u/dumbelts for a complete list of all the available customisation parts for every car.
Can I change the secondary color of two-coloured decals?
There is currently no way to do this, no. Might be added in a future update though.
Why are some body parts "restricted" and why can't I install them on my car? by/u/XenoCraigMorph
You can't mix customization in this game. Due to clipping, parts are restricted because of other parts you may have installed on your car. Ultimately, this limits the freedom you have on customizing your car. You can still buy these parts, but you'll have to find a body part that works with said restricted item, or completely remove the part. You can use the "remove all customisation" option to revert your car back to stock and find a combination that does work.
Update: List is getting bigger. Keep adding new questions/answers in the comments or just tag me in posts that have returning questions.
Update: Added categories for convenience and overview.